Luke21:36
We are on the Eve of the assembly on the plain of Dura.
Please have the courageous determination to be loyal to our Creator,
no matter what the threat.
Rev.13:
11 Then I saw a second beast, coming out of the earth. It had two horns like a lamb, but
it spoke like a dragon
. 12 It
exercised all the authority
of the first beast on its behalf, and
made the earth and its inhabitants worship the first beast
, whose fatal wound had been healed. 13
And it performed great signs, even causing fire to come down from heaven to the earth in full view of the people
. 14 Because of the signs it was given power to perform
on behalf of the first beast
, it deceived the inhabitants of the earth.
It ordered them to set up an image in honor of the beast
who was wounded by the sword and yet lived. 15
The second beast was given power to give breath to the image of the first beast, so that the image could speak and cause all who refused to worship the image to be killed.
"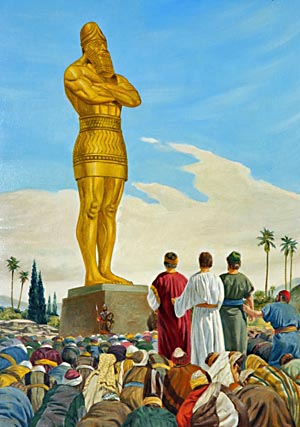 2Thess.2:4
**************************************************
2Sam.22:
21 "The Lord has dealt with me according to my righteousness;
according to the cleanness of my hands he has rewarded me.
22 For I have kept the ways of the Lord;
I am not guilty of turning from my God.
23 All his laws are before me;
I have not turned away from his decrees.
24 I have been blameless before him
and have kept myself from sin.
25 The Lord has rewarded me according to my righteousness,
according to my cleanness in his sight.
26 "To the faithful you show yourself faithful,
to the blameless you show yourself blameless,
27 to the pure you show yourself pure,
but to the devious you show yourself shrewd.
28 You save the humble,
but your eyes are on the haughty to bring them low.
29 You, Lord, are my lamp;
the Lord turns my darkness into light.
LINK TO MAIN HOME-PAGE
LINK TO DIRECTORY OF ARTICLES